I feel like one of the biggest arguments against veganism and plant-based lifestyles is "how do you get enough protein?" While I think it's true that we should be concerned with a balanced diet, I'm convinced it is possible to sub out meat and still be healthy!
The documentary What the Health really digs into how and why the protein debate falls short (last I checked, it was still on Netflix). The idea—or, rather, the assurance—that we don't need meat (and may be better off without it) has inspired me to get a little more creative in the kitchen.
However, plant-based or not, it is extremely important to make sure you're getting enough micro and macronutrients from your food. Protein does so many things in our bodies, but a few of the highlights are:
Helps us maintain a healthy weight

Helps us feel fuller longer

Aids in muscle-building

Balances blood sugar levels

Helps the brain concentrate
How much protein do you need?
According to the U.S. National Academy of Sciences, healthy women are supposed to eat 45 grams of protein per day, while healthy men should eat 52 grams per day.
This number may fluctuate based on your weight, age, or activity level—but it's a good baseline to keep in mind.
Just out of curiosity, I Googled how much protein is in a quarter-pound burger, just to give myself something to compare to. It turns out an 80/20 mix of ground beef contains 21 grams of protein per quarter-pound burger.
With that in mind, let's look at some plant-based alternatives!
6 of the Best Plant-Based Protein Sources
1. Lentils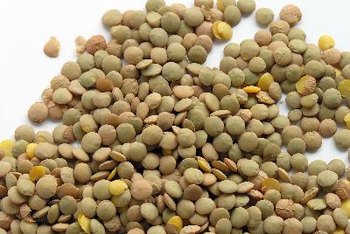 One cup of boiled lentils gives you 18 grams of protein on average! Lentils are great when mixed with other veggies, tomato paste and/or curry sauce. Lentils are also one of the most filling options, too (in my opinion).
Lentils are not a complete protein, so don't be afraid to mix them with a little rice or corn to give yourself the equivalent of a burger.
2. Quinoa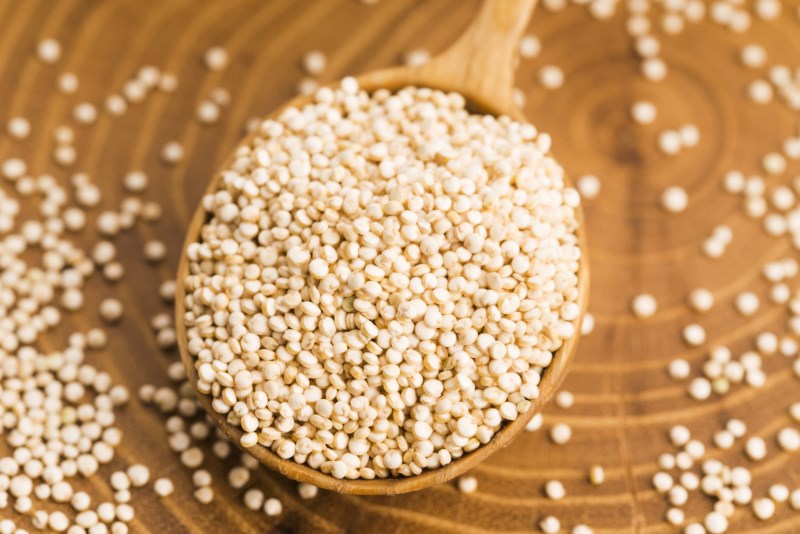 Quinoa has a little less protein—1 cup clocks in at around 12 grams. However, quinoa is more than worth your while, since it is a complete protein (meaning it contains essential amino acids) and it is a great source of iron and fiber. Try this in place of rice or pasta in your favorite dishes!
I've heard that rinsing your quinoa before you cook it can help break down some of that earthy flavor. Personally, the flavor doesn't bother me, but if you find yourself avoiding quinoa because of the taste, give the rinsing a try.
3. Beans
1 cup of boiled black beans contains about 15 grams of protein. There are tons of recipes out there for black bean brownies, burgers, and even soup! Black beans and chickpeas are two of my favorite beans, but feel free to explore pinto, navy, kidney, and whatever else is out there!
4. Peanuts
Peanuts are one of my favorite foods. I loved peanut butter and jelly sandwiches when I was a little kid, and I still find myself falling back on peanut butter sandwiches (sans jelly) as a quick-and-easy lunch. Peanuts will give you 38 grams of protein per cup (or 8 grams per 2 tablespoons of peanut butter).
Nuts—such as almonds, pistachios, or Brazil nuts—can be a great staple for vegans, vegetarians, and plant-based eaters.
5. Tofu
Tofu has about 10 grams of protein per half cup serving. Tofu is another protein that is complete—although tofu is famous for being a passable meat substitute, since it can be fried, marinated, baked, and prepared in the same way as many meat dishes.
I was hesitant to add tofu to this list, because it seems like everyone thinks tofu is the best non-meat protein ever. But it really is one of the most versatile!
6. Chia Seeds
Chia seeds will give you a whopping 30 grams of protein per cup! I love adding chia seeds to smoothies, oatmeal, and baked goods. I also really like chia seed pudding, which is basically just chia seeds soaked in some sort of milk. I find chia to be one of the easiest ways to add a little extra protein into my meals.
There you have it! What are some of your favorite plant-based protein sources? I'd love to hear from you in the comments section below!